National Growth of the Game Day

View Recent Nat'l Growth of the Game Day Press Release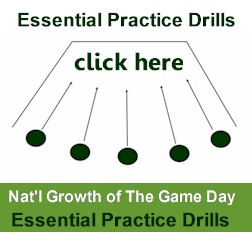 Here is the golf program I use to grow the game of golf. It focuses on the creation of new golfers, and then retention of these new golfers through affordable engagement. As any business owner will tell you, volume is the cure all. Create enough volume of consumers and you can do nothing less than grow and be profitable.
Step 1 is to contact elementary and middle schools and ask if you can bring golf to their students for free.
Step 2 is to go to their school campus and provide a taste of golf with a 30 to 45 minute session of golf on their school field. (Chip, Pitch, Putt, Full Swing with Drivers, Golf Course).
Step 3 is to hand out coupons/gift certificates to come to a free golf clinic at your facility the following weekend, with their parents.
Step 4 is to provide a free clinic or instruction at your facility so the parents can watch you interact with their child.
Step 5 is to inquire what they are looking for in a golf program and to provide that program to them. Sell your program and sell yourself. If the program they want doesn't exist, create it on the spot.
Here is the top program which I have created to retain these new players and at the same time continue growing the game by including their parents/grandparents.
The Placer Nevada Junior Golf Tour is more of a developmental golf program than it is a competitive golf tour. This program is designed to build recreational golfers and get those prepping for high school golf ready and or be and extension of their high school golf program. We accept all ages although we prefer to start at 4years old and let them continue to play forever.
We have all levels and ages of players so we need to be flexible on our formats to promote the most fun and challenge to each player. We do so by having our own tee markers for each group. The youngest less skilled players play par 4's from 100 yards, par 5's at 150 yard and par 3's between 40 and 60 yards. We will also have these players play in a 5 person scramble format. We put another set of tee's about 100 yards forward of the already existing forward tees on a course for our intermediate players and some of them play two person scramble and some play their own ball (whichever is more fun for them). We also have our more advanced players who play their own ball from the regular men's or women's tees. After a round or two you will have a good idea where participants belong. A child should hit two good shots on a par 4 and have a birdie putt (we use this formula to set tees).
Here is the turbo booster to this program. Parents must caddie for their children every tournament until they have reached the level to play their own ball from the regular tees. And then we supercharge the program by including the parents in the playing portion every other event. The child and parent play in an alternate shot format or a scramble format depending on the day.
Attached is a copy of our ten week session in which the players receive 11 practice sessions on Tuesday nights, and 8 tournaments on Sunday evenings for $130 per player (no charge for the parents).